Después de unos dias intentando registrar el canal de fax para asterik lo he logrado. Los paso que es he seguido son los siguientes.
cd /usr/src/

wget http://downloads.digium.com/pub/register/x86-32/register

Con este comando descarganmos el programa para registrar el fax en Asterisk bueno la licencia ya que un canal es gratuito si queremos mas hay que pagar.

cambiamos los permisos del archivo descargado con

chmod 500 register

ejecutamos

./register
Nos saldrá estas opciones:
Digium Product Registration – Version 3.0.5
Copyright (C) 2004-2007, Digium, Inc.
Use the '-l' option to see license information for software
included in this program.
Please select a category
1 – Digium Products
2 – Cepstral Products
0 – Quit
Seleccionamos el 1 Digium Products
Your Choice: 1
You selected 1, Digium Products
Please select a product
1 – Asterisk Business Edition
2 – Asterisk Business Edition C Expansion
3 – Asterisk For Smart Cube
4 – Asterisk For Smart Cube Expansion
5 – G.729 Codec
6 – High Performance Echo Can
7 – Skype For Asterisk
8 – Fax for Asterisk
9 – Free Fax for Asterisk
10 – Vestec Speech Engine
11 – Digium Phone Module for Asterisk
0 – Quit
Luego pulsamos el 9 – Free Fax for Asterisk
Please enter your Key-ID: XXXXXXXX substituir las X por tu licencia.
Nos pedirá nuestra licencia que habremos adquirido gratuitamente desde la de web de Asterisk
Product available to be registered.
Do you want to register this key now(y/n) y
Aparecerá la licencia de uso que tenemos que aceptar.
Do you accept this licensing agreement (y/n)? y
Seguimos rellenando el formulario con nuestro datos personales
First Name:
Last Name:
Company:
Address 1:
Address 2:
City:
State:
Postal Code:
Country:
Phone:
E-Mail:
Al final nuestra licencia se guardará en la carpeta /var/lib/asterisk/licenses/tulicencia.lic
Luego bajamos una utilidad que nos hara una prueba en nuestra maquina para ver cual es la mejor opcion
wget http://downloads.digium.com/pub/telephony/fax/benchfax/x86-32/benchfax-1.0.8-x86_32
cambiamos los permisos y la ejecutamos:
chmod 500 benchfax-1.0.8-x86_32
./benchfax-1.0.8-x86_32
Tarda un poco despues saldra un resultado que en mi caso ha sido:
Recommended flavor for this system is 'i686' with an average of 705 milliseconds of CPU time.
Entonces con ese resultado vamos a la web de digium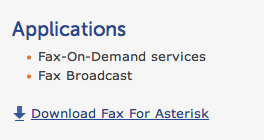 Pulsamos sobre Download Fax For Asterisk y saldra una ventana como esta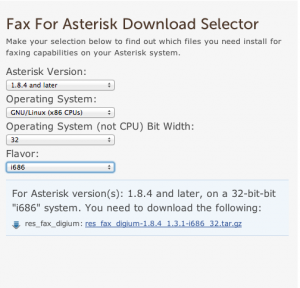 En mi caso he seleccionado i686 porque es lo que me dio en el resultado a vosostros seleccionais el que el os recomiende.
wget http://downloads.digium.com/pub/telephony/fax/res_fax_digium/asterisk-1.8.4/x86-32/res_fax_digium-1.8.4_1.3.1-i686_32.tar.gz
Lo descompriminos y lo guardamos en la carpeta de módulos.
tar -xf res_fax_digium-1.8.4_1.3.1-i686_32.tar.gz
cd res_fax_digium-1.8.4_1.3.1-i686_32
cp res_fax_digium-1.8.4_1.3.1-i686_32 /usr/lib/asterisk/modules/